Coalburn is easily reachable via the M74 and A70 and is only 20 minutes from Glasgow and 40 minutes from Edinburgh. The band currently attracts players from Ayrshire, Stirling, Lanark, West Lothian and Falkirk areas as well as all surrounding local areas and car sharing is always a possibility.

Coalburn I.O.R competes in Grade 3A and represents the Glasgow and West of Scotland Branch of the RSPBA.

Our band is led by Pipe Major Donald Williams and Leading Drumming Willie Kerr.

After several great seasons running two bands in Grades 2 and Grade 4, the 2015 season saw Coalburn return to one band after the Grade 2 band folded and the Grade 4A band was upgraded to Grade 3A. The vast majority of the Grade 3A band that competed in 2015 came from Grade 4B when formed as a feeder band in 2010. We are always looking for learners or indeed pipers and drummers already playing and provide a solid teaching platform in piping and drumming through Donald Williams and Willie Kerr.

Coalburn IOR have collected 65 first places since 2010 including 15 RSPBA Championships whilst staying focused on learners and our successful teaching programme. A superb accomplishment that everyone at Coalburn is very proud of.

If you'd like to be part of our band, we welcome both learners of all ages as well as experienced players and have an open door policy so please feel free to drop by our practices if interested in joining.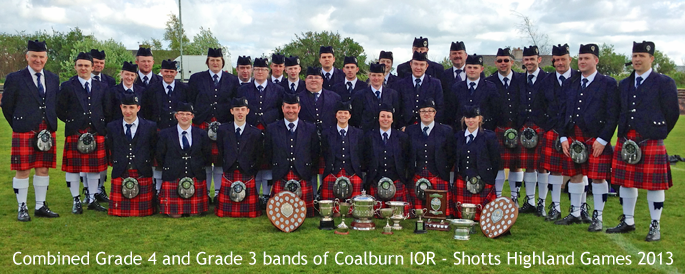 We hope you enjoy looking around our website, if you have any questions then please contact us.