2018 Schedule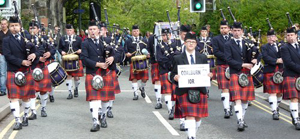 Coalburn I.O.R pipe band are available for hire throughout the year, please contact us for competitive rates for hire. We can supply a band for any event or corporate occasion. Most hires consist of:

Trio (2 pipers and a drummer)
Mini band (4-6 pipers, 2 snares, tenor and bass)
Full band (up to 16 players).
During 2018 the bands of Coalburn I.O.R can be found at the following events:
| | | |
| --- | --- | --- |
| Date | Place | Event |
| 12th May | Dunbar | Contest |
| 13th May | Gourock | Contest |
| 18th May | Extra Practice | Contest |
| 19th May | British Pipe Band Championships - Paisley | Contest |
| 2nd June | Shotts + Parade | Contest |
| 4th June | Lanimar Week Marches | Contest |
| 7th June | Lanimar Day | Contest |
| 15th - 17th June | UK Pipe Band Championships - Belfast | Contest |
| 23rd June | Lesmahagow and Parade | Contest |
| 29th June | Extra Practice | Contest |
| 30th June | European Pipe Band Championships - Forres | Contest |
| 7th July | Coalburn Gala Day | Fundraiser |
| 27th July | Extra Practice | Contest |
| 28th July | Scottish Pipe Band Championships - Dumbarton | Contest |
| 5th August | Bridge of Allank | Contest |
| 11th August | North Berwick | Contest |
| 16th / 17th August | Extra World's Practices | Contest |
| 18th August | World Pipe Band Championships | Contest |
| 25th August | Cowal | Contest |
| 8th Sept | Pitlochry Highland Games and Parade | Contest |
| 11th November | Armistice Parade | Fundraiser |
| 24th November | Christmas Fayre | Fundraiser |